Jun P. Espina&nbsp&nbsp&nbsp&nbsp&nbsp&nbsp&nbsp&nbsp&nbsp4 min read
Updated on November 20th, 2022
---
Overcoming Adversities by the Power of God: An Exposition on the Triumphant Existence of the Godly People as Outlined in the Holy Scriptures.
Listen
Let's Beat Our Adversities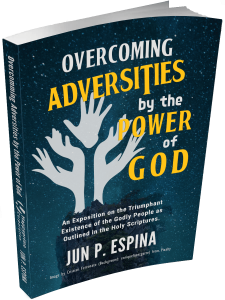 Your life runs on a guiding principle that you may not be interested in fixing or discarding altogether. Life is God-given, and He alone can beautify it. Proverbs 14:12 says: "There is a way which seems right to a man, But its end is the way of death." "There is a way" or Guiding Principle that is essential to the joyous fulfillment of our life journey. This 277-page book, "Overcoming Adversities by the Power of God," seeks to give the reader the wisdom to understand life's circumstances and ordeals and how to beat our sufferings with the wisdom of the Good Book.
Be Victorious from Adversities in this Sojourn
The clash between expectation and reality heightens our confusion and unhappiness. Problems come into sight like an essential additive in our daily menu. The spouses' incompatibility rules in most homes. Besides, we have the nerve-racking realities of today's life, such as high prices of commodities, worries about our health, fake news and other alarms ringing in social media, and the ugly truth about aging! Suicide and depression cases are increasing at an alarming rate. We need to get ourselves better prepared for all that will come from the unseen horizons of the future. This material is an "exposition on the triumphant existence of the godly people as outlined in the Holy Scriptures." We need to know how to overcome our adversities through the power of God. Life is short, but we can prolong it with a victorious sojourn.
Lines of Victory in Every Affliction
This book covers the author's (a church pastor for 14 years) three-decade experience of facing life's trials by the power of the God of the Scriptures through faith in Christ. "Overcoming Adversities by the Power of God" is a volume comprising real-life stories and Bible illustrations of victories amidst the storms of the mortal being. "Each chapter, though," the introduction page of this material states, "conveys the Bible's teaching on the Christian victory over life's adversities. On the whole, I crocheted man's willingness to believe and God's grace in the exhortation. I could not write about Christ's suffering and the agony of His cross, for example, without mentioning His triumphant resurrection. It is suffocating, just like painting a thick and dangerous forest without a little path of exit. I tried to supply every affliction I touched with the lines of victory."
I want to share part of Chapter 10 of the book here:
Faith Builds the Person in Christ

FAITH MATTERS SINCE it is a part of life. Without faith, human existence would be miserable, if not impossible, for on it all the institutions of government and society hang. No civilization can ever stand without it. Our banking system, for example, is one structure where people deposit money based on faith alone that, when needed, can be withdrawn.
Faith, therefore, is one of our most precious and upstanding principles in confronting our doubts and fears. How did you know, for instance, that the guy who took your beloved wife and son to the airport was a professional cabdriver? With faith that all is well with you today, you will have peace. Faith prevents your incoherent suspicions of life from spreading and conquering your mind and soul. For "faith is the assurance of things hoped for," according to the Holy Bible, "the evidence of things not seen" (Heb. 11:1). It is the eye of our soul and the foundation of a hopeful, happy, and serene existence.
Faith builds the person, whereas doubt and skepticism just lead one to stagnation, hopelessness, and defeat.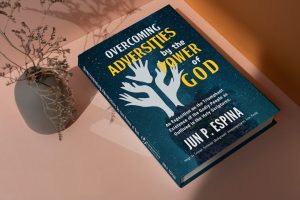 What kind of faith is it that overcomes life's adversities and gives victory, assurance, and hope? Well, the apostle John said, "For every child of God defeats this evil world, and we achieve this victory through our faith. And who can win this battle against the world? Only those who believe that Jesus is the Son of God." (1 John 5:4-5, NLT)
Expel Faith and Paralyze Your Chances of Winning

No one would deny that science gives humanity great hospitals, electricity, aircraft, and machines. We know it is based on solid facts obtained through research, not on faith. But science is not everything. Scientists die without understanding death. The genius of Edison or Einstein means nothing when tested by a spiritual gauge. Life is a mystery, and death (its twin) requires genuine faith in the Holy Scriptures. Death is unknowable; we don't know what it is. But Christ crushed death with His resurrection. Faith in Christ's words, therefore, strengthens our hope for the good news of endless life and eternal joy.
Expel faith from your heart if you want to keep checking your chair to see if it can still hold you. There is a ton of similar madness that your endless suspicion and faithlessness may bring to your pathetic course of unbelief. Paralyze your chances of winning with skepticism and needless alarms. Believe, therefore, and overcome your trials in the power of God.
Faith is power. Emerson said, "All I have seen teaches me to trust the Creator for all I have not seen." If you trust your Creator, you have victory over the unexplained, even death. Paul wrote, "… revealed by the appearing of our Savior Christ Jesus, who abolished death and brought life and immortality to light through the gospel" (2 Tim. 1:10). Death is the greatest of all the unknowns of life. But we can face it head-on if we believe in Christ. "For to me, to live is Christ and to die is gain" (Phil. 1:21).
-oOo-
I want to give these three eBooks away as a FREE DOWNLOAD for a limited time before they are published. The book, "14 TIPS TO PROMOTE LOVE & FAMILY HARMONY: Family Focus Made Simple," will be released first.
FREE EBOOK DOWNLOAD ANYTIME SOON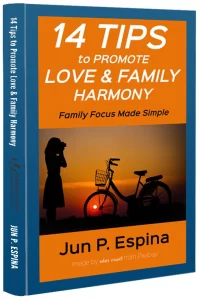 "No one dares to claim a cure-all therapy for love and family conundrums. This material intends to provide some Christian perspectives that are defamed by people's natural animosity toward everything biblical. Somehow, this book, '14 TIPS TO PROMOTE LOVE & FAMILY HARMONY: Family Focus Made Simple,' may reach God-seeking hearts, who believe there is an element of mystery and divinity in this God-given gift called 'life.'"