Jun P. Espina&nbsp&nbsp&nbsp&nbsp&nbsp&nbsp&nbsp&nbsp&nbsp5 min read
Updated on November 19th, 2022
---
Finding Happiness in Life as Promised by our Lord
Christian rejoicings, even in times of sorrow, are flooding the Internet through websites, social quotes, poetry, or graphic images. Genuine Christ-followers reported greater inner peace and fulfillment. Born-again Christians are finding happiness in life as promised by our Lord. It explains Paul's cadence of the word "rejoice" in Philippians 4:4: "Rejoice in the Lord always; again I will say, rejoice!"
Thousands of Christ's followers were persecuted, some even beheaded, by ISIS, for example, but the former didn't recant or join Islam. Instead, their love for the risen Jesus grew.
Christ's presence in the heart has made Christianity different and unparalleled. "Therefore if anyone is in Christ," wrote the Apostle Paul, "he is a new creature; the old things passed away; behold, new things have come." (2 Cor. 5:17)
Let unbelievers mock or cast insults upon the name of Christ by harassing and victimizing His followers. But even amidst persecution, born-again Christians increased in number, even in Middle Eastern countries where the Bible is banned.
Finding happiness in life is possible with Christianity. The Scriptures speak about higher levels of peace and happiness in the Lord. But you need to seek Christ sincerely as one seeking help in an hour of disaster. You need to search in your heart for the Spirit of the Founder of the Christian faith, Jesus Christ, our Lord.
The apostle Paul wrote, "However, you are not in the flesh but in the Spirit, if indeed the Spirit of God dwells in you. But if anyone does not have the Spirit of Christ, he does not belong to Him." (Rom. 8:9)
Finding happiness in life is thought to correlate with marrying a lovely and wealthy wife, enjoying good health, and landing a high-paying job. But this notion does not ring true when you lose your wife, or are demoted from your job, or are diagnosed with a fatal illness. The path to finding happiness in life always turns away from the valley of worldly possessions.
Rejoice in the Lord always; again I will say, rejoice! Let your gentle spirit be known to all men. The Lord is near. Be anxious for nothing, but in everything by prayer and supplication with thanksgiving let your requests be made known to God. And the peace of God, which surpasses all comprehension, will guard your hearts and your minds in Christ Jesus. (Phil. 4:4-7)
Finding Happiness in Life is Possible with God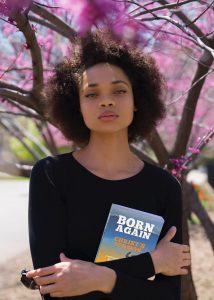 Our experience of peace in this domain—like having an excellent source of income and a happy family—is just superficial and could turn into sorrow and pain as quickly as when life's episodes hit the fan. We were created in the peace and love of God, but our sins have broken our relationship with our Creator. Because of that, we are left alone in this realm with many sufferings.
The prophet Isaiah wrote, "But your iniquities have made a separation between you and your God, And your sins have hidden His face from you so that He does not hear." (Is. 59:2) For this reason, Christ came to die for our sins to redeem us. But He desired us to believe and trust in His finished work at Calvary. Therefore, finding happiness in life is only possible with our Lord's pardon for our sins, since our transgressions have always perturbed our consciences, thus affecting our inner peace with God.
Christ is our Reconciler and the only Mediator between man and God. (1 Tim. 2:5) In John 14:6, He said: "I am the way, and the truth, and the life; no one comes to the Father but through Me." Peace and rejoicing in Christ are the signatures of the Christian life. You cannot be a real Christian and a sorrowful soul at the same time; you are either happy and peaceful or you are not a born-again Christian! One biblical reason for this experience is taught by Christ Himself in John 14:27:
"Peace I leave with you; My peace I give to you; not as the world gives do I give to you. Do not let your heart be troubled, nor let it be fearful." (John 14:27)
Finding Happiness in Life is More than Loving Your Neighbors
Most of our life principles are working against us. One such assumption we practiced as truth was to love our neighbors without loving God first. Facebook records tons of frustrations from people experiencing rejection by family members or friends after showing them deep love and concern—sometimes involving sizeable sums of money.
God's commandment is to love Him first, then our neighbors. Reversing the order won't work. All your love for your friends or family, for example, stems from your feeling that you are important to them. You love people because they are good to you or important to your political or other careers. Or you love them because you want to feel good and enjoy the benefit of doing so.
All things considered, even the mother's love for her child is toned down by disobedience or a sour relationship.
The promise "till death do us part" has been broken a million times.
Christ said: "Sin will be rampant everywhere, and the love of many will grow cold." (Matt. 24:12, NLT) Only God's love is forever! Our imperfections and sinfulness crumble our desire to live in tranquility outside of Christ, the real Giver of peace. From my experience, finding Christ by faith in my heart is on par with finding happiness in life.
I found this story on YouTube about a Muslim woman. She planned to commit suicide because of her inner chaos after decades of faithfulness to Islam and Allah. In her confusion, she visited her Christian friend to ask for prayer. Long story short, she was converted, experienced the peaceful heart of a born-again Christian, and left Islam regardless of the risk of getting poisoned or murdered by her own family. It is finding happiness in life by meeting Christ through faith.
Our God teaches love and peace, not "suicide bombing." YouTube is loaded with testimonies from Christians about how their lives changed after meeting Christ through faith. In Mark 15:5, we find a demoniac "sitting down, clothed and in his right mind." (Mark 5:15)
Finding Happiness in Life Through the Born-Again Experience
The Second Birth is an experience of a higher level of peace and joy one cannot find in this life outside of Christ. This calmness of mind and heart is foreign to the unbelievers. Their sarcasm—or hatred—is understandable. With the light and wisdom of the Spirit of God the Son, we can see the darkness and the hand of the devil on all things anti-Jesus. We are different; we have peace and eternal hope. We are finding happiness in life because of Christ's Spirit in our souls. The prophet Isaiah wrote:
"Do not fear, for I am with you;
Do not anxiously look about you, for I am your God.
I will strengthen you, surely I will help you,
Surely I will uphold you with My righteous right hand."
—Isaiah 41:10.
I want to give these three eBooks away as a FREE DOWNLOAD for a limited time before they are published. The book, "14 TIPS TO PROMOTE LOVE & FAMILY HARMONY: Family Focus Made Simple," will be released first.
FREE EBOOK DOWNLOAD ANYTIME SOON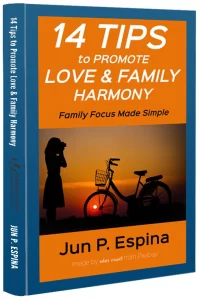 "No one dares to claim a cure-all therapy for love and family conundrums. This material intends to provide some Christian perspectives that are defamed by people's natural animosity toward everything biblical. Somehow, this book, '14 TIPS TO PROMOTE LOVE & FAMILY HARMONY: Family Focus Made Simple,' may reach God-seeking hearts, who believe there is an element of mystery and divinity in this God-given gift called 'life.'"