Jun P. Espina&nbsp&nbsp&nbsp&nbsp&nbsp&nbsp&nbsp&nbsp&nbsp2 min read
Updated on November 27th, 2022
---
The author has other websites—www.bythisverse.com is one—but this site, Jun P. Espina, served as a landing page for his essays and eBooks. The former name of this site, "Joyful Edge," was replaced with "Jun P. Espina," to better represent the author's website.
From the two letters, "JE," Joyful Edge was coined. Now, the "Joyful Edge" title is completely gone from the Jun P. Espina website. We also changed the tagline of this site from "The joyful edge of a life surrendered to Christ" to "Find a Quick Way to a Peaceful Life."
Since the early years of "Joyful Edge," we focused on the "joyful advantage" of the born-again Christians, as they have spiritual wisdom and eternal hope in Christ. In Romans 15:13, the apostle Paul made the teaching clear: "Now may the God of hope fill you with all joy and peace in believing, so that you will abound in hope by the power of the Holy Spirit." In one verse, Paul drew together the experiences of joy and hope in Christ.
We will continue with Joyful Edge's way forward with an added emphasis on finding a quick way to a peaceful life. The author will also post short stories, essays, and other articles that don't have any silhouettes of the biblical universe.
In short, this website, Jun P. Espina, aims to contain various topics without losing sight of its central theme of finding a quick way to a peaceful life.
The author's eBooks will be given ample space on this site. Jun P. Espina "com" is also designed as a platform for free downloads now and then.
I want these three eBooks to be given away for a limited FREE DOWNLOAD before their publication. The book, "14 TIPS TO PROMOTE LOVE & FAMILY HARMONY: Family Focus Made Simple" will be released first.
FREE EBOOK DOWNLOAD ANYTIME SOON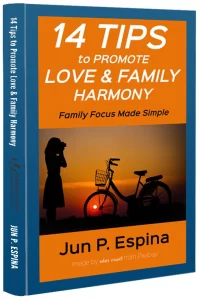 "No one dares to claim a cure-all therapy for love and family conundrums. This material intends to provide some Christian perspectives that are defamed by people's natural animosity toward everything biblical. Somehow, this book, '14 TIPS TO PROMOTE LOVE & FAMILY HARMONY: Family Focus Made Simple,' may reach God-seeking hearts, who believe there is an element of mystery and divinity in this God-given gift called 'life.'"