Jun P. Espina&nbsp&nbsp&nbsp&nbsp&nbsp&nbsp&nbsp&nbsp&nbsp5 min read
Updated on November 19th, 2022
---
Reexamining the Scriptural Works of the Holy Spirit on Miracles, Speaking in Tongues, and Church Worship of Extreme Pentecostalism
Listen
We Need to Know More
Of extreme Pentecostalism—we need to know more! This book presents one Bible reality: The truth-seekers who are also spiritual-minded always touch the heart of our Lord Jesus Christ. It is written in John, the First Chapter, that Jesus "was the true Light which, coming into the world, enlightens every man." Our Lord enlightens every man because He is interested in the salvation of everyone. He loves all. But as an illustration, my Facebook Timeline is populated with Christian FB Groups that post regularly Pentecostal and Charismatic worship services that have gone wrong. Why the Charismatic chaos; why the counterfeit worship?
Hence the title of this book: Pentecostalism, Its Theology, and the Charismatic Chaos Revisited. We need to understand who is telling the truth. We need to know what the biblical way is; we need to know the truth about extreme Pentecostalism—we need to know more!
Most Muslim converts we met on YouTube, for example, struggled first with the truth of the Bible God and our dear Savior Jesus. Then our Lord helped them through dreams and miracles, even before they met a Christian preacher or church for the first time. "Seek the LORD and His strength; Seek His face continually"—we find this exhortation in First Chronicles 16:11. We need to be seekers continually.
A pastor friend once told me he dreamed about fish. It means he theorized, God wants him to "fish men." I replied that I don't preach my dreams because of Jeremiah 29:8. It says: "For thus says the LORD of hosts, the God of Israel, 'Do not let your prophets who are in your midst and your diviners deceive you, and do not listen to the dreams which they dream.'"
The story of one Indonesian Muslim woman was different. She dreamed about a roofless house, which could mean there would be a forthcoming danger. The tsunami came, and instead of praying to Allah, she prayed to Jesus inside the mosque. And our Lord saved her whole family, while her neighbors nearby died or got wounded. (Here's the link.) 1
We found another story of a suicidal Iranian who challenged Christ to heal her mother within one week, and the mother got healed. (Here's the link.)2 Before the Internet, many would say that the miracle dispensation has passed, but now YouTube provides us with authentic evidence of our Lord working miracles to save those seeking His face.
Here is another reference to the conversion of an Imam to Christianity by a miracle. 3
It is not the end of our YouTube story, for most of these converts met our Lord later through the spiritual care of one Pentecostal church. In this material, therefore, we used the phrase "extreme Pentecostalism" to emphasize our belief that not all Pentecostal groups (over 150 denominations) are enslaved to demonic doctrines and weird and creepy practices not observed by Christ, the Apostles, or the early Church. Our Lord Jesus (or the apostle Paul or Peter) was never a praise-and-worship leader!
Only the Scriptures can help us examine the Charismatic phenomenon.
All things considered, we have included around a dozen links (or even more) in this book that would lead us to seek or investigate further our Christianity and cherished doctrines. Have we ever thought of reexamining extreme Pentecostalism—reexamining our own beliefs in the baptism of the Holy Spirit, in miracles, speaking in tongues, and praise and worship?
Spiritual Insecurity with Extreme Pentecostalism
While in college, I had a fellow boarder who used to do "praise and worship" alone in his room. It was his version of prayer. Without loud singing and a wild guitar accompaniment, he said, he could not have a sense of closeness with God. He was addicted to such a pentecostalized experience, despite our discomfort and annoyance.
Do you think your sincere faith in Jesus Christ as your only Lord and Savior and God the Son is enough to ripen you as a believer outside of the church's regular fellowship?
Or will you always be happy as a Christian even without taking part actively in charismatic praise and worship events?
This book is important in helping a Christian become more stable and complete spiritually in Jesus, our Lord. Even if you are in isolation (because of a pandemic, for example!) or condemned to suffer because of your faith in our Lord, the only Giver of Eternal Life. This paper was written to give you confidence in God's promises.
The religion of feelings, signs, and wonders, loud singing and rock music, and the hypnotism or manipulation happening in between, is not biblical Christianity. Why? Because even without music hyping and charismatic seasonings, we are complete in Jesus.
The apostle Paul wrote: "[A]nd in Him you have been made complete, and He is the head over all rule and authority." (Col.2:10) And in Romans 5:5, he added that "hope does not disappoint, because the love of God has been poured out within our hearts through the Holy Spirit who was given to us."
The Dancing Jesus of Extreme Pentecostalism
I wrote the following in Chapter 10 of this book:
IF THE EXTREME Pentecostal miracleism is biblical and, to use Guy P. Duffield and Nathaniel M. Van Cleave, "the test of its genuineness is that it profits the whole body," then the practicing Pentecostal Christians must have been doctrinally sound and super believers. But most of them are not sure of going to heaven; they are waiting for their emotions and bodies to tell them they have assurance of eternal life. (See John 10:27-30.)
Christ-centeredness is the key that opens the door of truth for any Bible doctrine. Spurgeon once said he used to look for a path toward Jesus in understanding a particular Scripture. And if he could not find one, he would make one.
No Scriptures to prove that Jesus did "praise and worship," the extreme Pentecostal model. "The world has changed after 6000 years," you may insist. But God is holy, and Christ did not laugh; He did not dance—the dancing Jesus of most Pentecostals is not the Son of God!
Of Christ's Holiness and Solemn Character
Read this book. It is different stuff—a friend in your library when you inquire about the unscriptural teachings of your church. It is your buddy when you need insights into the Scriptural truth about worship and sanctification. Christianity is about Jesus Christ and His love, and in your worship of Him, you see His holiness, and you don't shout at Him, or do a meaningless laugh, or jump or dance to the creepy tune of some metal music for a pagan-like adoration and ceremony during a "praise and worship break." Remember that before the crucifixion of Christ, He prayed "very fervently; and His sweat became like drops of blood, falling down upon the ground." (Luke 22:24) Our Lord was always in a solitary place alone with His Father praying; He didn't jump or do an Islamic dance—we should worship our Lord Jesus in harmony with His holiness and solemn character.
Of Your Freedom of Choice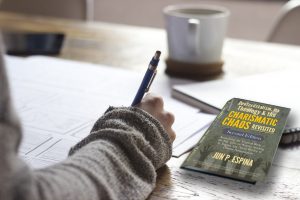 The Bible just tells stories and writes doctrines without the effort of persuading the reader. It's up to you. God is love, and love works that way, giving freedom of choice and the power to believe and discern the truth. "Keep on asking, and you will receive what you ask for. Keep on seeking, and you will find. Keep on knocking, and the door will be opened to you." (Matt. 7:7, NLT) Christ enlightens every man seeking truth, but He also allows blindness to the seekers of pleasures and the things of this world.
If you prefer emotions to the truth, then even God couldn't help your bias against reason and sound doctrine. "Anyone who goes too far and does not abide in the teaching of Christ, does not have God; the one who abides in the teaching, he has both the Father and the Son." (2 John 1:9)
"But as for you, speak the things which are fitting for sound doctrine… so that the word of God will not be dishonored." (1 Tit. 2:1a, 5b)
Extreme Pentecostalism — is growing so fast. Is it God's?
---
Notes:
1
Tsunami Miracle: What Islam could not do – Jesus Christ does by Saving People. https://www.youtube.com/watch?v=1yU87JMtzEo (accessed: June 15, 2021).
2
Suicidal Iranian Mother and Daughter Found the Answer of Cure. https://www.youtube.com/watch?v=6dLiSFn71_Q (accessed: June 15, 2021).
3
Jesus Knocks on Muslim Imam's Door – Zak Gariba part 1/2. https://www.youtube.com/watch?v=5ik44QY3EPQ (accessed: June 15, 2021).