By Jun P. Espina | Last updated on June 20th, 2021 at 02:04 pm
Welcome to Joyful Edge
I experienced joy in my heart since 1984, hence Joyful Edge or joyful advantage. How did it happen? Well, I struggled to understand the meaning of death — why do people die? — for three years after I witnessed a loved one, my father, stop breathing. A pastor friend told me the answer to my quest is found in Hebrews 9:27 where it says death is an appointment. It happened after I asked a co-employee, a ranking Catholic nun, who didn't know death's meaning, too. She just told me to find an answer from the church's tradition. "Sister," I replied, "please give me Bible not church, give me the truth, not tradition." She walked away. The pain caused by embracing a dying father at age 49 did not go away until I was told that death is God's appointment. I checked the Bible myself and found the verse. "What kind of Book is it?" This truth from the Holy Bible impacted me—I wanted to know more. Then, I attended church, listened to just one sermon, and got saved. I was born-again in 1984. I experienced a joyful edge—until today! All the things I did for my Lord and Savior, Jesus Christ—all the books I wrote about Him—got their starting point from this story.
Why Christ's Version?
Understanding the Biblical Born-Again Experience
From the book's Introduction: "MOST PEOPLE DISMISS Christ's message of our eternal life in heaven as it is too good a teaching to be true. Life after death is just beyond the radar of our earthly minds. People died, and no one returned to tell the story. It's how negative we are about the Gospel. For even though Christ resurrected, we persist in rejecting His Word.
"It is the core of this book: 'Born Again Christ's Version: Understanding the Biblical Born-Again Experience.'" Free Download ►
Surveying Christianity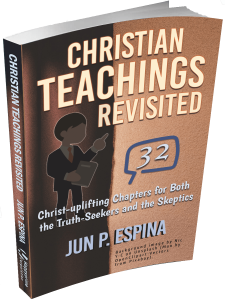 Bring to Light Disputed Christian Teachings
From Christian Teachings Revisited. LINKS: EBook / Paperback.
"Henry Adams once said, 'A teacher affects eternity; he can never tell where his influence stops.' If the secular thoughts of Darwin have affected academia like tissue paper absorbing water, what about the teachings of Christ? Well, genuine Christianity is the light of this world. When the non-Christians dominate society as in the U.S. today, their first move would be to ban the Bible in schools in the name of religious freedom. American society has become the bastion of abortion, feminism, homosexuality, gender confusion, and all forms of godlessness. Wickedness, like tumor cells, infects all threads of the social fabric and thus weakening the power of Christian influence." Read More ►
Of moving forward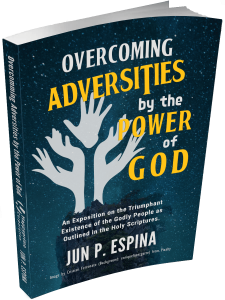 We Need to Face the World Like We Own It
From Overcoming Adversities by the Power of God. LINKS: Ebook / Paperback.
"A cheerful attitude amidst life's trials is a rooted principle in Scripture. Taught the apostle Paul: 'Now I rejoice in my sufferings for your sake . . .. For God gave us a spirit not of fear but of power and love and self-control' (Col 1:24; 2 Tim. 1:7). It is difficult to absorb but true: 'I rejoice in my sufferings.' Both the believers and unbelievers of Christ suffer in this life. The difference is that Christ's followers can rejoice in pain and adversity because God gave them a 'spirit not of fear but of power.'" In 1 Thessalonians 5, Paul said, REJOICE ALWAYS, before saying, PRAY WITHOUT CEASING. (Vv. 16-17) Yes, we have a victorious life in Christ—we can overcome our trials! Read More ►
Keep the Family
Saving the Family from Radical Leftism
From The Biblical Blueprint to Keep the Family.
Amazon KDP Links: EBook / Paperback.
One word defines this work aside from "biblical." It is "sacredness." The dictionary defines the word sacred as "secured against violation, infringement, etc., as by reverence or sense of right: sacred oaths; sacred rights."
In short, the biblical family is sacred. We covered various family-related topics in this book, and each chapter starts with the word biblical to point out our thesis that the biblical family is sacred and Christ-glorifying.
Most people don't get the idea that life is God-given, therefore, it is sacred. Since love, marriage, children, family, and the like are tied to life, therefore, they are sacred or "secured against violation."
If you violate your marriage or your children or wife or husband, it is because you don't understand the biblical decree that "He who digs a pit will fall into it." (Prov. 26:27a) Read More ►
The Charismatic Chaos
We Need to Know More
From Pentecostalism, Its Theology & the CHARISMATIC CHAOS Revisited
Amazon KDP Links: EBook / Paperback.
Reexamining the Scriptural Works of the Holy Spirit on Miracles, Speaking in Tongues, and Church Worship of Extreme Pentecostalism
THIS BOOK PRESENTS one Bible reality: The truth seekers who are also spiritual-minded always touch the heart of our Lord Jesus Christ. Most Muslim converts we met on the YouTube, for example, struggled first with the truth of the Bible God and our dear Savior Jesus helped them through dreams and miracles even before meeting a Christian preacher or church for the first time. "Seek the LORD and His strength; Seek His face continually"—we find this exhortation in First Chronicles 16:11. We need to be seekers continually. My Facebook Timeline is populated with Christian FB Groups and a post or two regularly of a Pentecostal and Charismatic worship service that had gone wrong. Why the Charismatic chaos; why the counterfeit worship? Read More ►
Hello! Joyful Edge Appreciates Your Visit
OVER 30 YEARS ago, I asked myself how to cure boredom, aimlessness, and the fear of the unknown such as losing a livelihood, family, or sound health. For three decades, almost all my acquaintances were careless about these issues—most of them didn't even bother about the reality of our coming death. The thought of dying did not cross their minds for decades. I wrote books and created this website for the same purpose of giving the people the courage to move forward—the education to brave the unknown. Read More ►
"Depression (major depressive disorder)," according to American Psychiatric Association, "is a common and serious medical illness that negatively affects how you feel, the way you think and how you act." Christ's promised light has helped many depressives to rebound and become positive about this life and the things to come. I have a book on Born Again Christ's Version: Understanding the Biblical Born-Again Experience. It contains Biblical meditations and messages for the soul searching the Book of Truth and God's faithful presence in life. Read More ►
The family institution is the unit of society. The problem is radical leftism, wokeism, communism, and other "isms" hating what is God-ordained. The goal of the Luciferians is the abolition of the family. I wrote, The Biblical Blueprint to Keep the Family: Saving the Family from Radical Leftism as civilization—more so in the West—gets so shaken already by relativism, radicalism, and atheism. This book deals with biblical precepts concerning the family and the main goal of the Globalists to abolish the family. Read More ►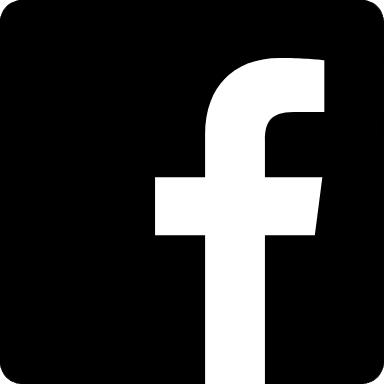 Follow Jun on
FaceBook ►