Jun P. Espina&nbsp&nbsp&nbsp&nbsp&nbsp&nbsp&nbsp&nbsp&nbsp6 min read
Updated on November 18th, 2022
---
Have Confidence and Move Forward
THE ONLY PROVEN method to move forward in life with confidence is not the recipe for a college education, a good job, or a bountiful inheritance. Life is God-given; we cannot isolate it from God's mysterious nature and qualities.
Our love for our family, for example, is priceless. It can neither be bought, copied, nor duplicated. In Steve Jobs' last words [some said Jobs did not say it!], he mentioned how worthless his wealth and fame were compared to his loved ones.
God is love; He taught us to love with an intense feeling of affection that bears the mark of God's imprimatur. Why do young kids make us happy? We see the joy in their baby talk and artless entertainment. It is because "God loves the little children." Why are we indignant with robbers, rapists, and even the bad-mouthing of our leaders and friends? Well, it is on account of God's hatred of what is sinful and evil.
Cruelty fills us with revulsion. We are made in God's image, full of our maker's fingerprints. We can feel His anger. Hence, we can move forward in life with confidence only in the mighty hand of God—only if we believe we are safe in His loving arms. The apostle Paul wrote: "What then shall we say to these things? If God is for us, who is against us?" (Rom. 8:31)
Always Have Confidence in God
We don't need Google to search for some truths about God's mercy and intervention in our sufferings and tragedies since we always look to God in our emergencies. It is part of our nature.
Some people are as self-assured and proud as a penguin until they are diagnosed with kidney failure or cancer.
Death is just behind us, and the attitude of moving forward in life with confidence would fall apart as quickly as the eyes of death stare at us assertively and break down the last standing sentinel of our self-confidence. We can only move forward positively in life if we have faith and confidence that God will never leave us, as promised in Hebrews 13:5:
"Make sure that your character is free from the love of money, being content with what you have; for He Himself has said, 'I WILL NEVER DESERT YOU, NOR WILL I EVER FORSAKE YOU.'"
Some have the perseverance and fearlessness to move on amidst adversities and tribulations. The Global Multidimensional Poverty Index (MPI) reported in June 2017… that "706 million… experience extreme deprivations like severe malnutrition." The Human Poverty Index (HPI) also noted that "more than half of the impoverished population in developing countries lives in South Asia, and another 29 percent lives in sub-Saharan Africa." Millions of people are hungry and deprived of their basic needs, but the smarter guys in these poor countries continue to enjoy the middle-class lifestyle, and a few even became billionaires. These successful people understand how to move forward in life confidently; fearless of the power of the unknown.
But when life is over, and the last achievement is celebrated, the successful man will succumb to the power of death just like the poorer ones. Our human fear of dying and leaving behind the fruits of our achievements is the foundation of meaninglessness. Where is true confidence in the journey of life?
What did King Solomon, the wisest man of his time, teach about life and the works of our hands? Observe Ecclesiastes 2:1-11:
1 I said to myself, "Come now, I will test you with pleasure. So enjoy yourself." And behold, it too was futility.
2 I said of laughter, "It is madness," and of pleasure, "What does it accomplish?"
3 I explored with my mind how to stimulate my body with wine while my mind was guiding me wisely, and how to take hold of folly, until I could see what good there is for the sons of men to do under heaven the few years of their lives.
4 I enlarged my works: I built houses for myself, I planted vineyards for myself;
5 I made gardens and parks for myself and I planted in them all kinds of fruit trees;
6 I made ponds of water for myself from which to irrigate a forest of growing trees.
7 I bought male and female slaves and I had homeborn slaves. Also I possessed flocks and herds larger than all who preceded me in Jerusalem.
8 Also, I collected for myself silver and gold and the treasure of kings and provinces. I provided for myself male and female singers and the pleasures of men—many concubines.
9 Then I became great and increased more than all who preceded me in Jerusalem. My wisdom also stood by me.
10 All that my eyes desired I did not refuse them. I did not withhold my heart from any pleasure, for my heart was pleased because of all my labor and this was my reward for all my labor.
11 Thus I considered all my activities which my hands had done and the labor which I had exerted, and behold all was vanity and striving after wind and there was no profit under the sun.
Faith is the Mother of Confidence
Solomon said, "all was vanity and striving after wind and there was no profit under the sun." It is not egoism and self-worship, for all in this world is meaningless.
As moving forward in life with real confidence is impossible outside of the presence of our Maker, God invented tears and the hugs of family to massage our frustrations and assuage our sorrows—to relieve us of our pains!
Knowing the failure or sorrowing side of human nature, Jesus Christ offered Himself as the only real solution to our hopelessness, and tragedies, and dying selves: "Come to Me," invited Christ, "all who are weary and heavy-laden, and I will give you rest." (Matt. 11:28)
Faith is the mother of confidence. The man named Saul walked through life in false confidence as a Pharisee and a master of Jewish law until he met the resurrected Christ at Damascus, and became the Apostle Paul. He pointed out in his teachings that we can move forward in life resolutely, but only through faith in the living Jesus. Paul wrote this in Philippians 4:
Not that I speak from want, for I have learned to be content in whatever circumstances I am. I know how to get along with humble means, and I also know how to live in prosperity; in any and every circumstance I have learned the secret of being filled and going hungry, both of having abundance and suffering need. I can do all things through Him who strengthens me. (Vv. 11-13)
Have you noticed confident people honoring God? Yes, the secret of genuine achievement is God; of peace, God; of real confidence, God—yes, faith in the living God!
Paul said, "I have learned the secret of being filled and going hungry, both of having abundance and suffering need. I can do all things through Him [Christ] who strengthens me." After trusting Jesus, Paul became a very confident man. "I can do all things," he said. In Philippians chapter 1, he also said, "For I am confident of this very thing… For it is only right for me to feel this way about you all, because I have you in my heart… For God is my witness, how I long for you all with the affection of Christ Jesus."
Paul developed a high level of confidence ("I can do all things"); he was a changed man, from a church persecutor to a persecuted church planter and writer of the New Testament—(again), all this happened after meeting Jesus!
Faith in Christ is necessary for building up true confidence and a positive disposition in life.
They said in psychology that, "Confidence can be described as a belief in one's ability to succeed. Striking a healthy balance can be challenging. Too much of it and you can come off as cocky and stumble into unforeseen obstacles, but having too little can prevent you from taking risks and seizing opportunities."
This is true of man-made confidence, self-reliance, and assurance. It has an over-dosage or under-dosage effect.
But it's not true with the Christ-derived confidence—the "full trust; belief in the powers, trustworthiness, or reliability of" Jesus Christ, the risen Son of God.
The depth of our confidence in life is only limited by the depth of our faith in Christ.
Paul sounds insanely over-confident when he says, "For to me, to live is Christ and to die is gain." (Phil. 1:12) That's how it works.
Lord, "Increase our faith!" "And the Lord said, "If you had faith like a mustard seed, you would say to this mulberry tree, 'Be uprooted and be planted in the sea'; and it would obey you." (Luke 17:5-6)
In Christ, we can move forward in life with confidence—never again defeated by the devil-inspired agonies in this world.
"Who is the one who overcomes the world, but he who believes that Jesus is the Son of God?" (1 John 5:5)
I want these three eBooks to be given away for a limited FREE DOWNLOAD before their publication. The book, "14 TIPS TO PROMOTE LOVE & FAMILY HARMONY: Family Focus Made Simple" will be released first.
FREE EBOOK DOWNLOAD ANYTIME SOON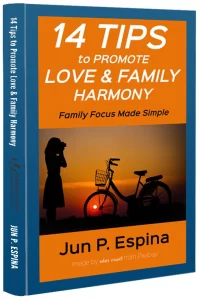 "No one dares to claim a cure-all therapy for love and family conundrums. This material intends to provide some Christian perspectives that are defamed by people's natural animosity toward everything biblical. Somehow, this book, '14 TIPS TO PROMOTE LOVE & FAMILY HARMONY: Family Focus Made Simple,' may reach God-seeking hearts, who believe there is an element of mystery and divinity in this God-given gift called 'life.'"