PENTECOSTALISM, ITS THEOLOGY & THE CHARISMATIC CHAOS REVISITED
PENTECOSTALISM, ITS THEOLOGY & THE CHARISMATIC CHAOS REVISITED
By Jun P. Espina | Last updated on December 9th, 2019 at 09:12 pm
Reexamining the Scriptural Works of the Holy Spirit on Miracles, Speaking in Tongues, and Church Worship of Extreme Pentecostalism

We Need to Know More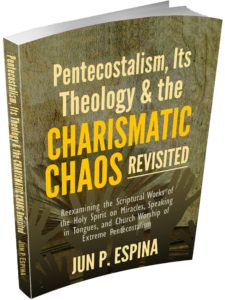 THIS BOOK PRESENTS one Bible reality: The truth seekers who are also spiritual-minded always touch the heart of our Lord Jesus Christ. Most Muslim converts we met on the YouTube, for example, struggled first with the truth of the Bible God and our dear Savior Jesus helped them through dreams and miracles even before meeting a Christian preacher or church for the first time. "Seek the LORD and His strength; Seek His face continually"—we find this exhortation in First Chronicles 16:11. We need to be seekers continually. My Facebook Timeline is populated with Christian FB Groups and a post or two regularly of a Pentecostal and Charismatic worship service that had gone wrong. Why the Charismatic chaos; why the counterfeit worship? Hence, the title of this book: Pentecostalism, Its Theology, and the Charismatic Chaos Revisited. We need to understand who is telling the truth. We need to know what is the Biblical way; we need to know the truth about extreme Pentecostalism—we need to know more!
We have included around a dozen links (or even more) in this book that would lead us to seek or investigate further our Christianity and doctrines. Have we ever thought of reexamining our beliefs in the baptism of the Holy Spirit, in miracles, speaking in tongues, and praise and worship?
You are Complete in Him
Do you think your sincere faith in Jesus Christ as your only Lord and Savior and God the Son could continue to grow and bear much fruit even outside of the loving care and fellowship of your church? Would you always be happy as a Christian even without taking part actively in a charismatic praise and worship events?
This book is important in helping you become more stable and complete spiritually in Jesus our Lord, even if you are in isolation or condemned to suffer because of your faith to our dear Lord Jesus who is our only Source and Giver Eternal Life. Wrote the Apostle Paul: "[A]nd in Him you have been made complete, and He is the head over all rule and authority." (Col.2:10) And in Romans 5:5, he added that "hope does not disappoint, because the love of God has been poured out within our hearts through the Holy Spirit who was given to us."
Of Christ's Holiness and Solemn Character
Read this book. It is a different stuff—a friend in your library when you inquire of the unscriptural teachings of your church. It is your buddy when you need insights of the Scriptural truth about worship and sanctification. Christianity is about Jesus Christ and His love and in your worship of Him you see His holiness and that you don't shout at Him, or do a meaningless laugh, or jump or dance to the creepy tune of some metal music for a pagan-like adoration and ceremony during a "praise and worship break." Remember that before the crucifixion of Christ, He prayed "very fervently; and His sweat became like drops of blood, falling down upon the ground." (Luke 22:24) Our Lord was always in a solitary place alone with His Father praying; He didn't jump or do an Islamic dance—we should worship our Lord Jesus in harmony with his holiness and solemn character.